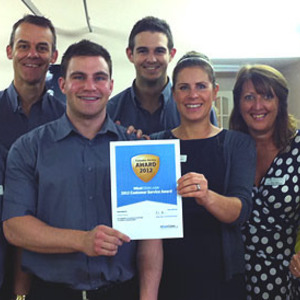 Congratulations to network member, Central Health based in Derby, which has received a well-respected national customer service award.
Central Health's services have been voted in the top five per cent of clinics in the UK for customer service, according to WhatClinic.com.
Patients who use WhatClinic.com, the free and trusted website that provides details of where to visit for specialist medical treatment internationally, and allows patients to rate their experiences after each visit to a clinic, voted Central Health as providing excellent customer service. The website is used by millions across the world making the awards much sought after.
Commenting on the customer service award, Kevin Huffington, Clinical Director of Central Health said: "We're delighted to receive this award as it rewards the emphasis we have always placed on client care at Central Health. The award means so much because it's been voted on by actual clients, who have obviously been so impressed with us that they've taken the time to go online and recommend us to others"
Philip Boyle from WhatClinic.com added: "We're delighted that Central Health has proven itself to be among the best clinics in the country in this regard, coming within the top 5% of all clinics rated and winning the 2012 Customer Service Award.
"We want patients using WhatClinic.com to have the best possible experience when they contact a clinic to enquire about and book a treatment, so we pay very close attention to the feedback we get back from patients about the customer service they have received."