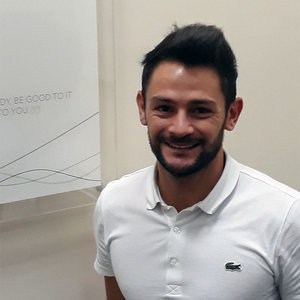 Innovative occupational physiotherapy provider Physio Med has expanded its team with the addition of a new physiotherapist.
Christian Erre has joined the team at Physio Med's clinic in Leeds and will be responsible for helping to improve its clients' health and wellbeing.
After graduating from the University of Sardinia in Italy with a first-class degree in physiotherapy in 2016, Christian moved to the UK.
A specialist in the fields of musculoskeletal (MSK) physiotherapy and sports physiotherapy, Christian is also trained in neurological rehabilitation, enabling him to treat individuals suffering from a wide variety of MSK and neurological injuries and conditions and help them return to work safely and quickly.
Christian said: "I'm delighted to join the experienced team at Physio Med. The opportunity to work for an innovative physiotherapy company that treats patients face-to-face as well as offering remote treatment to employees of major companies across the UK is a dream come true as it allows me to maximise my time and help as many people as possible."
Phil Clayton, Managing Director of Physio Med, said: "We're thrilled to have Christian as our newest team member. His desire to help others is infectious and we're sure his unique skillset will be a valuable asset that will help us offer our services to even more people and grow the business further still."