Here at Physio Med, as part of our occupational physiotherapy education programme, we have put together a series of exercises to provide you with some professional knowledge and advice to help tackle common shoulder problems. This is our third body part within the series and we hope the information provided will be of use and insight.
Overview
The shoulder is an elegant piece of machinery. It has the greatest range of motion of any joint in the body, however; this large range of motion can lead to joint problems.
Besides big lifting jobs, the shoulder joint is also responsible for getting the hand in the right position for any function. When you realise the variety of ways and positions we use our hands every day, it is easy to understand how hard daily life can be when the shoulder isn't working well.
Do you suffer from a sore shoulder?
If so, why not request our shoulder exercise infographic, which will help you to target and reduce common shoulder conditions. The exercises are simple, effective and can be performed in the workplace.
Within our infographic we have illustrated and explained a variety of movements targeted towards a specific condition, to help improve mobility, stability and/or strength.
The exercises have been designed by our team of senior Chartered Physiotherapists to assist in preventing the onset of tension and stiffness or to combat any pain if it occurs.
To receive a copy of our infographic please provide your details quoting 'Shoulder Exercise Infographic Request' via our contact form: http://physiomed.co.uk/contacts/new
NOTE: Please use a corporate email address or we may not be able to fulfil your request.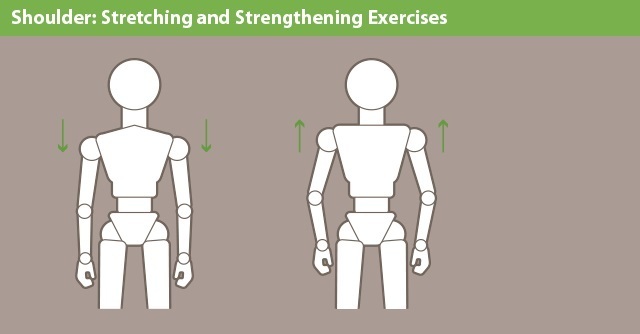 For more information, please feel free to get in touch:
Tel: 0113 229 1300
Visit: Contact Us Form