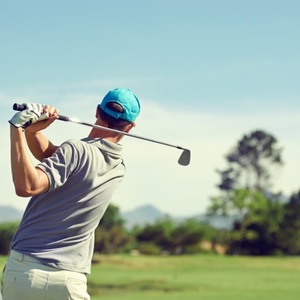 The warm summer weather is perfect for getting out on the golf course and enjoying a good game. As well as being a brilliant spectator sport, golf is fantastic exercise. It's important to remember that golf is actually a more physically demanding sport than people realise; it's a lot more than 'a good walk spoiled' as Mark Twain once said! A good warm up and cool down is necessary to ensure that you not only play your best game, but also avoid any post-game injury or soreness, and that you have a fun and safe golfing experience.
Let's walk through the main points that you need to consider before you begin your game:
Perform a Light Warm-Up
A light but sufficient warm-up is essential. Some people may think they don't need to warm-up since they aren't doing 'intense' exercise when they're playing golf; this just isn't the case. While golf may not be a very intense sport in terms of getting your heart rate up, when you swing the club with a high degree of speed and strength you are creating a very rapid contraction in the muscles. Such a contraction could result in injuries if the muscles are tight and cold. In addition to the stress on the muscles, the joints are being swung and forced quickly into their maximum ranges of motion. Without an adequate warm-up to the muscles, joints, and their associated tissues, a single tee off could result in a debilitating injury and send you straight back to the clubhouse. Not ideal at all!
For the light warm-up you should do some brisk walking, marching on the spot, or some other form of light cardiovascular exercise for 5 to 10 minutes to get the blood flowing. Once your muscles are warm and relaxed it's time for stretching.
Stretch the Muscles you
'
re About to Use
A proper pre-round stretching programme will take about 15 minutes to complete. This time also doubles as mental preparation time for your game. Golf is the chess of the sporting world after all. Because golf is a dynamic sport you'll need to do a dynamic stretching warm-up and save your static stretching for after the game when you cool-down. Dynamic stretches (active movements) should form part of your pre-round warm-up and can also be used during the round itself. They are used to prepare your muscles for the rapid shortening and elongation they will incur as you golf. Static stretches (long steady holds), on the other hand, are more useful to improve your overall flexibility and are most effectively done at the end of your golf round as part of your cool-down.
Dynamic stretching
When you've completed your cardiovascular exercise, and while your muscles are warm, start moving your limbs and torso through your range of movement. It's important to keep your momentum under control and never 'fling' or 'throw' your body parts around. You may feel light resistance in your muscles but you should never feel pain during a stretch. Our professional physiotherapists here at Physio Med recommend listening to your body and stopping an exercise when it tells you you've gone too far.
Finish your warm up with simulated quick golf movements such as full practice swings and simulated forward bending as if reaching for the ball. Repeat each movement 8 to 10 times. Any driving range practice should be done after your dynamic stretching routine and right before you start your round, so as not to let your muscles cool-down before you play.
Cool Down
Following your game, before heading to the 19th hole, you should stretch again in order to prevent muscle aches and pains, as well as to work on any flexibility issues you may individually have. To cool-down it is better to use static, rather than dynamic, stretches following your golf round. Be sure to stretch while your muscles are still warm from the game.
Static stretching
Static stretches, as opposed to dynamic stretches, slowly take your muscles to the end of their range of motion and hold it there rather than quickly moving them in and out of that position. You will feel slight resistance in the muscle as you stretch it, but you should never feel pain during a stretch. Again, that's your body telling you that you've taken things too far! Once at the end of the muscle's range of motion hold the static position, but do not bounce. Maintain this stretch position for 20 to 30 seconds and repeat 3 to 4 times on each side, or more if you are particularly tight in one area.
The cool-down works through all the main muscles group, including the wrists, in order to prevent pain in the days and hours after your game. It's worth taking your time to do the cool-down efficiently.
An adequate warm-up and cool-down for golf can mean the difference between a good game and a great game, so next time you are heading out to the green don't forget to factor in enough extra time for you to both prepare and cool-down your body; your muscles, joints and score card will thank you for it!
Our professional physiotherapists at Physio Med can give you tailor made warm-up and cool-down exercises to help you be golf course ready every time you play. If you are unfortunate enough to have developed an injury whilst playing, our team of physiotherapists are here to help with treatments to reduce your pain and get you back on the green in no time.
Call the staff at Physio Med and we will be happy to answer any questions you may have about whether physiotherapy is right for you.
For more information, please feel free to get in touch:
Tel: 0113 229 1300
Visit: Contact Us Form