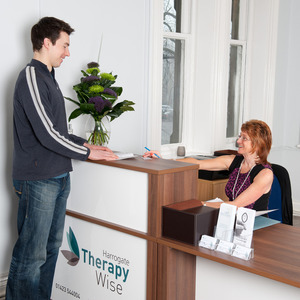 A Harrogate physiotherapy clinic is celebrating after becoming the first in the country to be awarded a new, industry-leading accreditation.
Harrogate Physiotherapy Practice, of Victoria Avenue, has achieved the Physio Med Way Accredited Practice status, which rewards the industry's best practices for clinical excellence, reporting, facilities and customer service.
The clinic passed a rigorous evaluation process, which assessed physiotherapist experience and specialist skills, the environment and facilities, patient feedback, clinical notes procedures and ongoing professional development.
Harrogate Physiotherapy Practice works with Physio Med, one of the UK's leading physiotherapy solutions providers, to provide services to the employees of businesses and organisations such as the John Lewis Partnership, Department of Work and Pensions, Waitrose and Arla Foods. Providing early intervention physiotherapy to employees reduces sickness absence in the workplace, helping staff return to work quicker and cutting costs to businesses.
Annelize Ferreira lead clinician and owner of Harrogate Physiotherapy Practice, which has been established for four years, said: "We are delighted to be the first to achieve the Physio Med Way Accredited Practice status. Having our professionalism and commitment to the industry recognised is reward in itself and we look forward to continuing to work with Physio Med and its customers."
Mark Fletcher, Clinical Director at Physio Med, said: "Great physiotherapy is at the heart of everything we do, so we only work with the very best, reliable and most talented Chartered Physiotherapists. We apply stringent criteria to any practice that wishes to join our network and gain the Physio Med Way accreditation and Harrogate Physiotherapy Practice more than met those requirements."
The clinic will receive multiple benefits such as sole Physio Med provider status within a 30 minute drive and an on-going education programme to continually improve customer service. Patients of Physio Med practices are guaranteed initial assessment within five days.