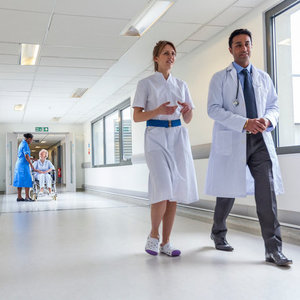 An online self-assessment tool for patients with musculoskeletal (MSK) disorders, that can reduce costs and waiting lists, improve efficiencies and collect deep clinical data, has been launched to Clinical Commissioning Groups (CCG).
The clinically-validated platform, developed by leading occupational physiotherapy provider Physio Med, offers a full-body musculoskeletal triage solution, with results from an initial CCG trial indicating that 25% of patients can be self-managed, therefore removing them from the NHS waiting list, saving costs and speeding up recovery.
The online diagnostic tool uses more than 4,000 algorithms to accurately route the patient to the appropriate pathway, from immediate A&E attendance through to self-management.
All questions answered within the assessment are transferred to patient and clinical reports which can be used to support clinical decisions by GPs and physiotherapists.
CCGs that employ the software would be able to promote the service and direct patients to use it before they see a GP in order to assess their treatment requirement and keep waiting lists and times reduced.
An initial trial at a CCG of 200 patients on the NHS waiting list for physiotherapy, found that 44% were happy to engage with the app and, of the patients that completed the questionnaire, 25% felt they could manage the problem themselves with support via the platform but without the need for an NHS appointment. Overall, including those who chose not to engage with the platform, that means 11% of all patients would not need an NHS appointment.
Jake Fletcher, Sales Director at Physio Med, said: "20-30% of GP appointments are taken up by MSK disorders, which is putting huge pressure on GPs, who are often the gateway to these secondary services. Telephone triage introduced by some GP surgeries has not reduced GP workload but simply moved it to the phone.
"NHS England's Elective Care Transformation plan aims for patients to be seen by the right person, in the right place, first time. CCGs across the country are looking for a solution that delivers that and we believe this platform fits the bill. Patients go through a clinically sound triage before they have taken up any NHS time, receiving clear routing to appropriate care straightaway, whether they need physio, GP or A&E treatment or can self-manage.
"This improves the actual and perceived service level for patients and commissioners alike, saves the NHS time and money and removes patients from waiting lists. Furthermore, the clinical trial we carried out demonstrated to us that, given the opportunity, patients will engage with a system that saves them time and gets them on the right treatment pathway straightaway."
For further information on the platform and the clinical trial contact Jake Fletcher on 0113 229 1300 or email jake.fletcher@physiomed.co.uk