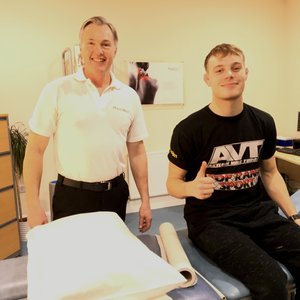 Professional cage fighter Adam Bramhald has been crowned Caged Steel European Mixed Martial Arts (MMA) Champion after physiotherapy helped him overcome a serious injury just weeks before his title fight.
After rising through the amateur ranks, 25-year old Adam, of Doncaster, was preparing for his professional MMA debut in 2016 when he tore three ankle ligaments during a training session days before the fight. Despite struggling to walk, Adam proceeded with the bout and won it against the odds. However, it caused his ankle to become swollen and even more painful.
Aware that he urgently needed support and advice to help him make a full recovery and give him the best chance of winning his next fight, Adam visited occupational physiotherapy specialist Physio Med on the advice of a neighbour. He met the company's Clinical Director, Mark Fletcher, who recommended physiotherapy to help remove the build-up of fluid around his damaged ankle ligaments, restore the movement and strengthen the ankle.
After just three sessions, the swelling disappeared completely and Adam was able to start walking and running again. After further sessions to ensure the swelling didn't return, Adam's movement was completely restored, allowing him to resume his normal training routine within weeks of suffering the injury.
Adam was so impressed with the treatment that he continued to attend Physio Med for regular massage appointments to help prepare his muscles for – or recover from – subsequent fights. However, with injuries an occupational hazard for any MMA fighter, it wasn't long before he required Mark's assistance again, first for a knee ligament injury suffered during a fight in 2017, and again in 2019 after sustaining a shoulder injury. The shoulder injury was so serious it threatened to side-line Adam for a significant period and force him to cancel the forthcoming European championship fight he'd spent several years working towards.
Mark said: "Adam's shoulder injury had the potential to keep him out of action for months, which would have meant him having to cancel his title fight. Fortunately, he contacted Physio Med immediately after suffering the injury and, by quickly loosening the muscles around his shoulder joint with a bespoke stretching and strengthening exercise regime, which he could also carry out at home, Adam was able to strengthen his muscles and reduce his pain levels. He was back in training for his next fight within a matter of weeks."
Thanks to Mark's intervention, Adam's title fight went ahead as scheduled and, after defeating veteran MMA fighter Declan Williams in December 2019, he was crowned the Caged Steel European Mixed Martial Arts Champion. Following subsequent appointments at Physio Med, Adam went on to defend his title for the first time in March 2020.
Adam said: "It's no exaggeration to say that I probably wouldn't have become European champion without Physio Med. Whether it's been recovering from injury, helping me manage pain levels or preparing my body for an upcoming fight, they've been with me every step of the way and I'll be forever indebted to Mark and the team for helping make sure my title fight went ahead.
"MMA is an incredibly physical sport and your body is always sore after a fight, but physiotherapy really reduces the pain levels and speeds up recovery. I would recommend visiting a physiotherapist to any MMA fighter."
Mark said: "Injuries are commonplace among MMA fighters, so every one of them would benefit from visiting a physiotherapist before and after their fights to help them prepare their bodies for the extreme rigours of a fight and recover afterwards.
"If you do suffer an injury, a physiotherapist can also help with your rehabilitation, devise a personal plan to get you fit again and advise you of the best ways to prevent the injury occurring again in future."
Common MMA Injuries That Can Be Treated By Physiotherapy
MMA is a full-contact combat sport that combines techniques from various combat sports and martial arts. Although almost every body part is susceptible to injury during an MMA fight, two of the most common injury sites are the shoulders and knees.
Shoulder injuries such as muscle and ligament tears are a regular occurrence for MMA fighters, due to the amount of punching and striking required. Shoulder stretches and strengthening exercises can prevent these injuries occurring and enable fighters to recover from them more quickly.
Knee injuries typically occur when a fighter repeatedly kicks or twists the knee while grappling and can take a long time to heal. They can be prevented by carrying out tailored knee strengthening exercises which have been recommended by a physiotherapist.