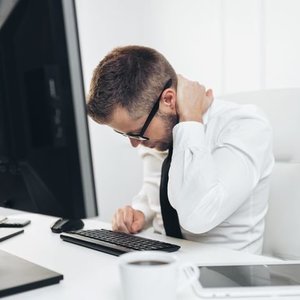 With most businesses now requiring at least some of their staff to work from home, Physio Med has launched a new remote DSE assessment process to help employers protect their workers.
Display Screen Equipment (DSE) assessments and training are vital to ensure safe working environments for desk-based employees and are usually carried out in person by trained DSE assessors. But during the COVID-19 pandemic many people are required to work from home, often without a dedicated workspace. This leaves employers facing a difficult task in ensuring their employers are working safely and without compromising their musculoskeletal health.
Physio Med's video link DSE assessment has been developed to provide an effective method of assessing an employee's 'at home' workstation without the need for a physio visit in person.
The assessment is a two-stage process. The employee is initially asked a number of questions relating to their work environment, as well as confirming their connectivity options. The questions will cover daily hours at workstation, equipment used, chair and desk.
A 90-minute appointment is then booked with a qualified assessor, using an agreed connected video platform, who assesses the work environment and makes specific recommendations on how to configure it, including adaptations, postural awareness and equipment requirements. The assessment covers screens, keyboards, mouse use, chair, floor surface, work surface, posture and environment. All advice will consider current Government guidance on staying safe during the pandemic and will be updated as required.
A full written report is then provided to the employer. Further written advice and handy tips can also be supplied to the employees.
The new remote DSE service is available now. For further information call 0113 2291300 or email customerservices@physiomed.co.uk.
Download our Guide: