Our award winning Physiotherapy Advice Line (PAL) is part of our blended approach to physiotherapy. This delivers quick, evidence-based, expert intervention, assessment, treatment and advice for muscle and joint problems directly from a senior, chartered physiotherapist.

The PAL Process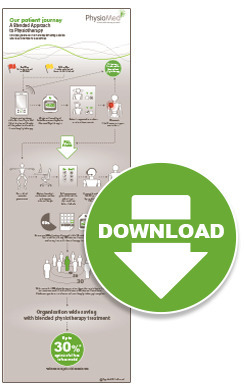 PAL is an award winning, innovative, over the phone treatment solution from Physio Med, designed to empower patients to self-manage their condition.
PAL won the prestigious Chartered Society of Physiotherapy Service Excellence Award (Self-Management) in 2012. It combines all advantages of expert physiotherapy intervention with state of the art technology.
When face to face physiotherapy care is clinically required, this will be available to the individual at several points throughtout the process; this refers to our Blended Approach to Physiotherapy.
This unique combined service has been specifically developed to give clients access to a fast, easily accessible and clinically effective physiotherapy provision. The PAL service allows patients to get advice quickly about their musculoskeletal disorders directly from a senior, chartered physiotherapist.
Click the image to the right to download our Blended Approach to Physiotherapy infographic which clearly outlines the PAL patient process and benefits.
Face to face physiotherapy is also available if:
Indicated by triage at the beginning of the intervention
Indicated clinically during the assessment
If the patient does not attain the level of recovery expected by the physiotherapist
Clients Using Our PAL Service Have Seen An Average 30% Reduction In Physiotherapy Spend
The remote service is a 10 day process and current PM results show that 60% of cases using this service alone are able to self-manage their condition, without the need for more costly face-to-face intervention. Our customer surveys report high patient satisfaction and additional feedback indicate that this intervention is effective in preventing people taking time off.
PAL has proved to save up to 30% in the direct cost of physiotherapy, compared to full face-to-face provision, without impacting upon either clinical or organisational outcomes.
All employees are guaranteed to receive a call from a member of the PAL team within 4 hours of the referral being made and the service is available Monday to Friday (except Bank Holidays) between 8am – 8pm.
Watch our Physiotherapy Advice Line video
If you're interested and want to find out more about our Physiotherapy Advice Line service, call us on our customer services number.
You can also fill out our contact form and one of our expert advisors will get back to you as soon as possible.