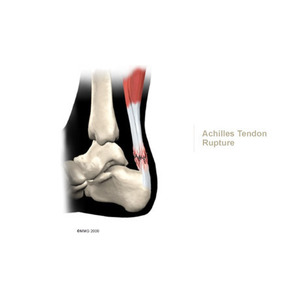 Problems that affect the Achilles tendon include tendonitis, tendinopathy, tendocalcaneal bursitis, and tendonosis. Each of these conditions will be described and explained. These problems affect athletes most often, especially runners, basketball players, and anyone engaged in jumping sports. They are also common among both active and sedentary (inactive) middle-aged adults. These problems cause pain at the back of the calf. Severe cases may result in a rupture of the Achilles tendon.
This guide will help you understand the following:
where the Achilles tendon is located
what kinds of Achilles tendon problems there are
how an injured Achilles tendon causes problems
what treatment options are available
Portions of this document copyright MMG, LLC.