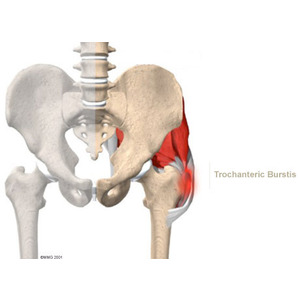 A common spot for a bursitis is on the side of the hip. Here a large tendon passes over the bony bump on the side of the hip. The bony bump is called the greater trochanter. Inflammation in the bursa between the tendon and the greater trochanter is called trochanteric bursitis. This problem is common in older individuals. It may also occur in younger patients who are extremely active in exercises such as walking, running, or biking.
This guide will help you understand the following:
how trochanteric bursitis develops
how doctors diagnose the condition
what treatments are available
Portions of this document copyright MMG, LLC.