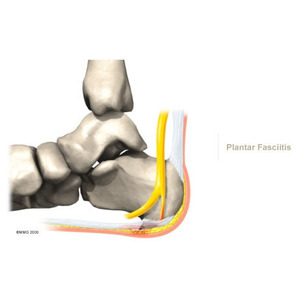 Plantar fasciitis is a painful condition affecting the bottom of the foot. It is a common cause of heel pain and is sometimes called a heel spur. Plantar fasciitis is the correct term to use when there is active inflammation. Plantar fasciosis is more accurate when there is no inflammation but chronic degeneration instead. Acute plantar fasciitis is defined as inflammation of the origin of the plantar fascia and fascial structures around the area. Plantar fasciitis or fasciosis is usually just on one side. In about 30 per cent of all cases, both feet are affected.
This guide will help you understand the following:
how plantar fasciitis develops
how the condition causes problems
what can be done for your pain
Portions of this document copyright MMG, LLC.